Previous Sales

The years 2003-2008 were particularly good for museum quality Mark Twain memorabilia. In 2003, for example, we handled hundreds of letters of correspondence which contained thousands of pages of largely unpublished material. For the first time in history the actual death records were united with a presentation manuscript on immortality & an unpublished manuscript Twain penned about his life & birth. They were thoughtfully kept intact. Collections of Mark Twain first editions were also acquired & disseminated to Mark Twain enthusiasts from coast to coast, including multiple copies of the true first issue of The Adventures of Tom Sawyer, and first issue copies of The Celebrated Jumping Frog of Calaveras County.
Below is a sample list of some items we have handled in the past, followed by images of recently sold items:
*****The actual death certificate once affixed to Mark Twain's burial case, along with an unpublished manuscript Twain wrote about his birth & moral life, along with other important manuscripts & documents pertaining to his life & a contract to meet his minister's wife in a million years if there is life after death.
*****The original Manuscript Marriage Certificate bonding Samuel Clemens and Olivia Langdon in Holy Matrimony, handwritten by Thomas K. Beecher, signed by many including the mother and father of the bride.
*****Mark Twain's signed approval copy of his Last Will & Testament.
*****The only known original copy of the very first fictional story signed "Mark Twain."
*****Handwritten Manuscripts including poems, chapters of books, speeches, and many interesting topics including Huckleberry Finn, the telephone, the death of his daughter Jean, the discovery of the North Pole, and much more.
*****Many first editions in the choicest possible condition, including even some that aren't even in any Mark Twain bibliography!
*****Presentation copies of many Mark Twain first editions.
*****Many personal effects of Samuel Clemens, including his favorite Bermuda rocking chair he used at the end of his life along with a photograph of him sitting in it in April, 1910, his leather shaving strop, many books from his library, proof copies, etc..
*****Archives of handwritten letters by Mark Twain, members of his family, secretaries, and friends--- including thousands of pages of previously unknown material. Some important Mark Twain letters concerned the death of his wife, the first and only letter written to the initial publisher of Adventures of Huckleberry Finn concerning its publication, and a letter concerning the moral lessons contained in Adventures of Huckleberry Finn.
Recently SOLD--Fine Blue Huck: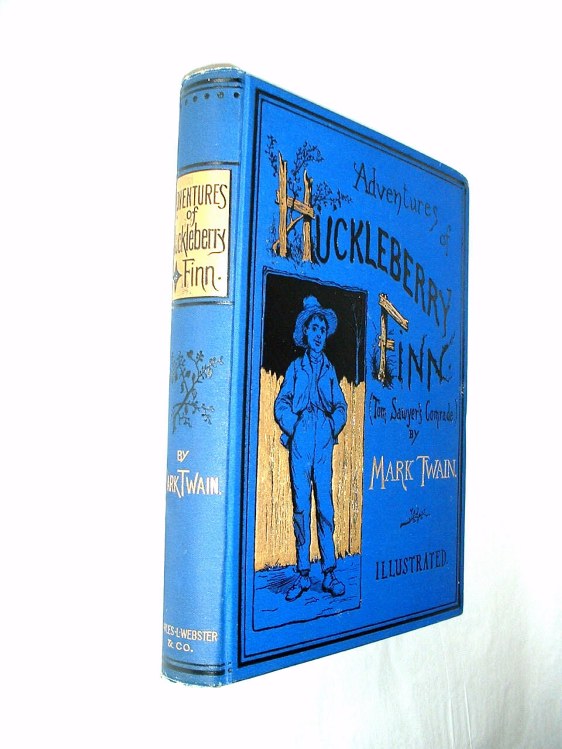 A SAMPLING OF SOME MEMORABILIA HANDLED IN 2003:
Some uncanny force brought some remarkable documents together, and now they shall stay together: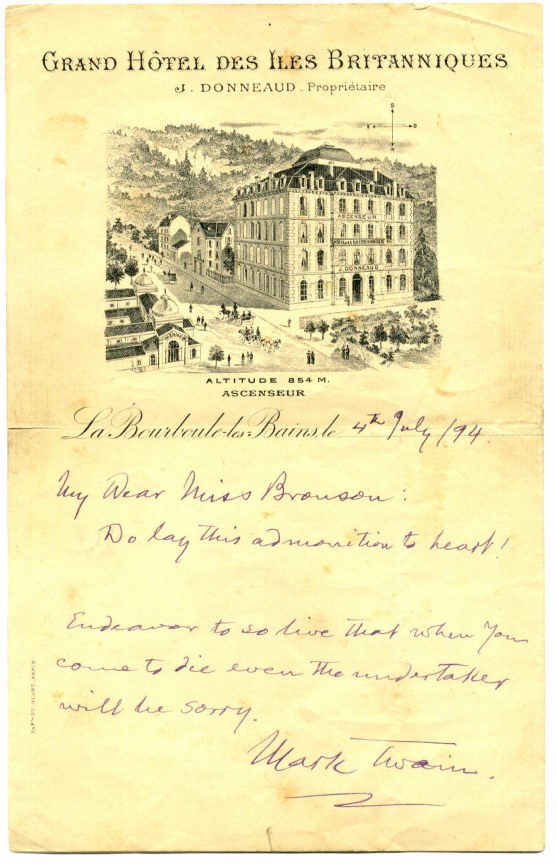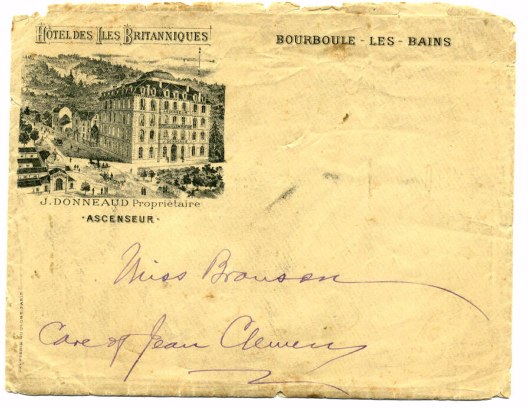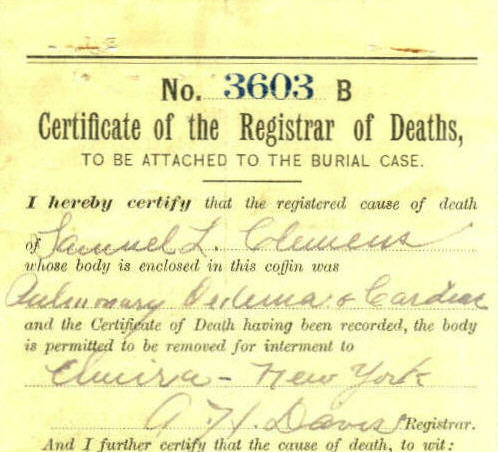 The original draft of Mark Twain's contract to meet Mrs. Thomas K. Beecher in a million years if there is life after death (he told her there was no such thing as an afterlife), together with a presentation letter to Clara Spaulding: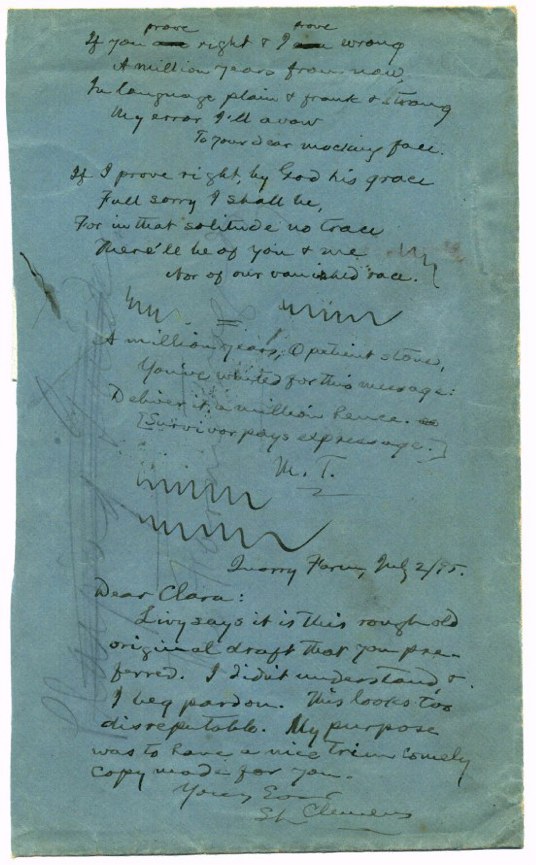 THESE HIGHLY IMPORTANT MARK TWAIN ITEMS SOLD TOGETHER AS A COLLECTION by Admirable Books
"The report of my death has been grossly exaggerated."
-- Mark Twain
-------------------------------------------------------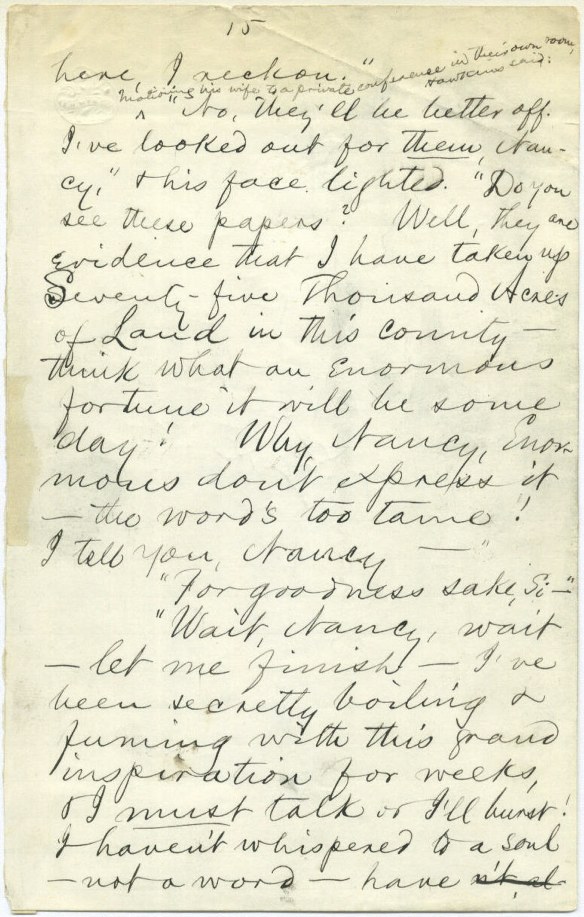 Original manuscript page in Twain's writing from his very first novel.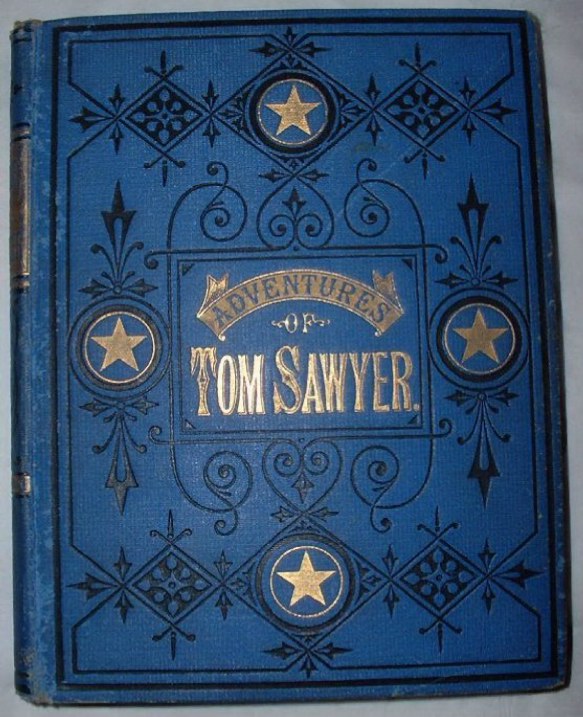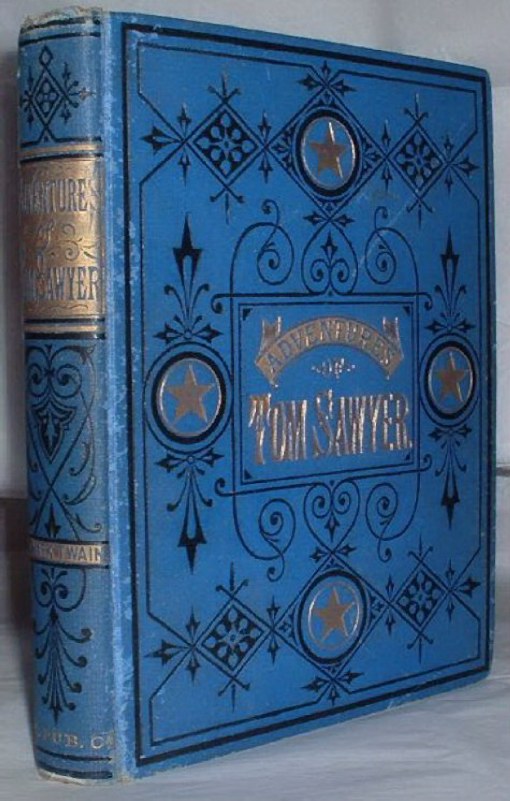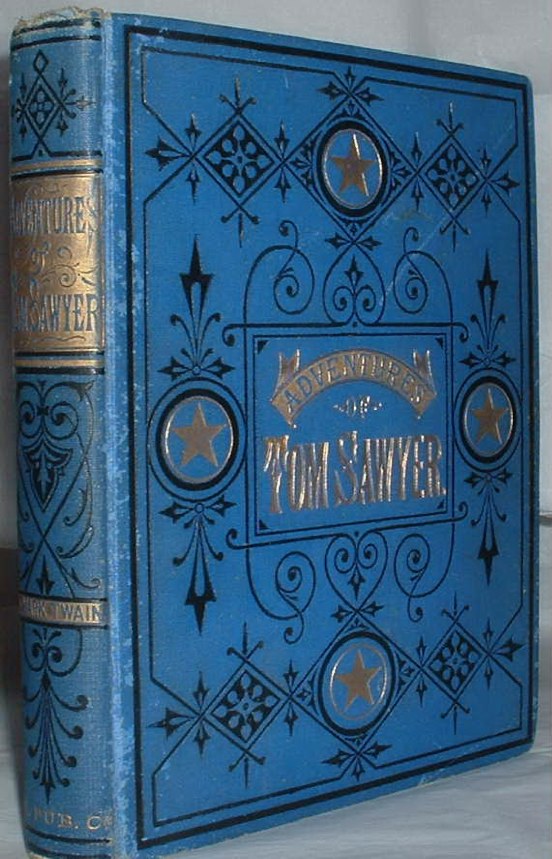 True First Issue All Points in original Very Good clean, tight, & bright condition
ALL EDGES GILT!!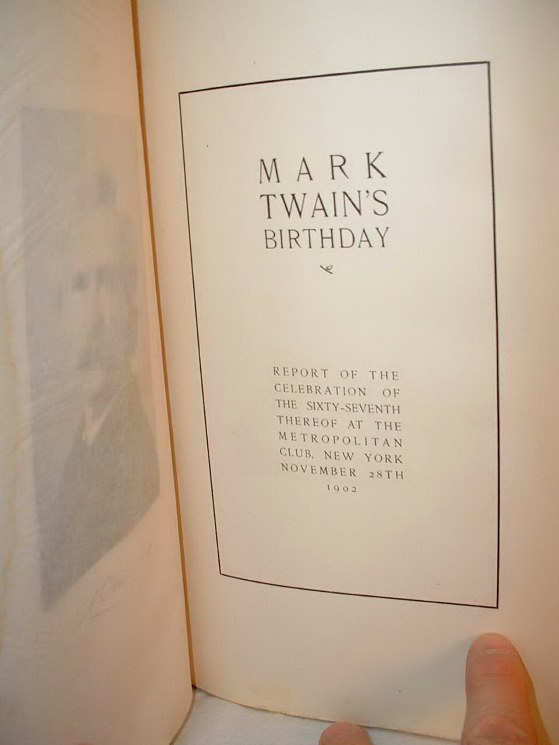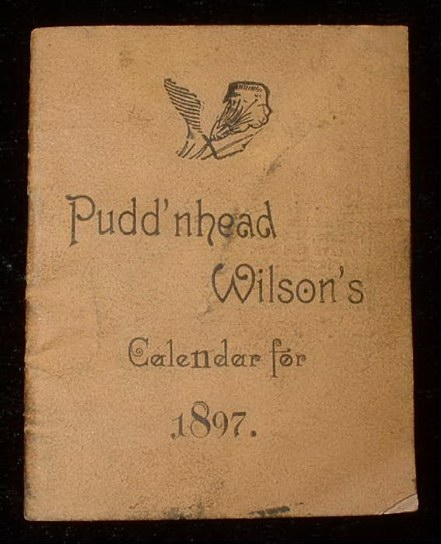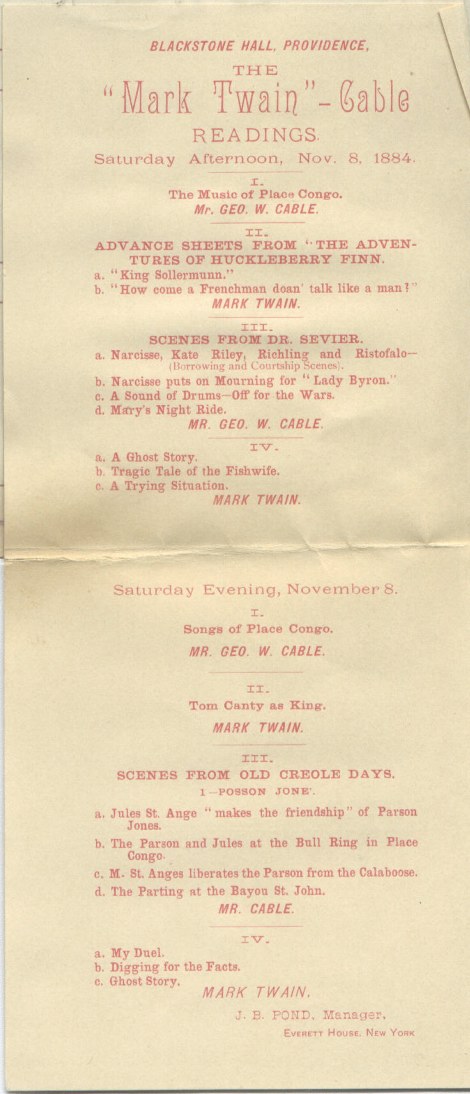 A fine, bright & EARLY specimen--
Huckleberry Finn Sales Sample
with original Publisher's & Agent's paperwork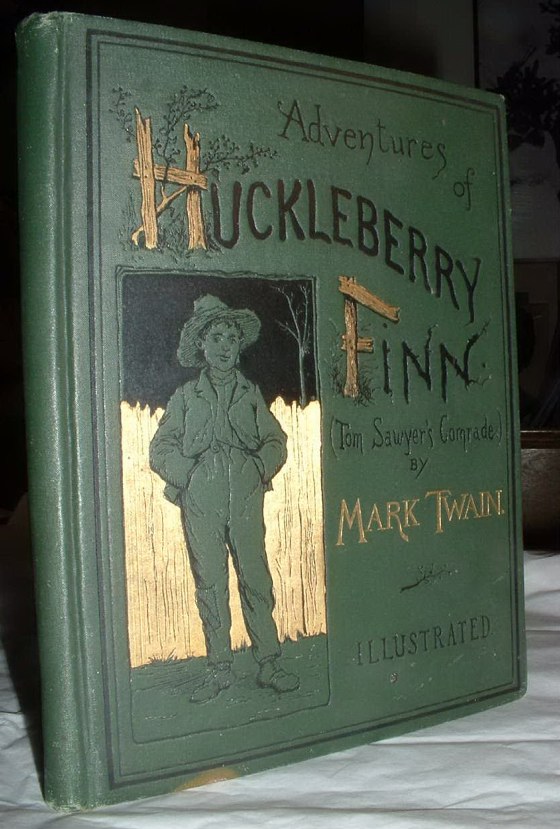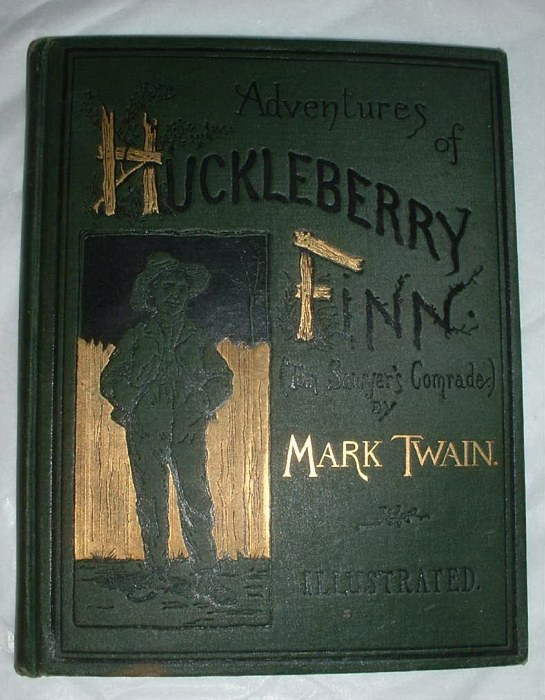 Above: Front cover
Below: A portion of the original Certificate Of Agreement left with subscribers as a reminder to have the money ready to pay for Huckleberry Finn upon delivery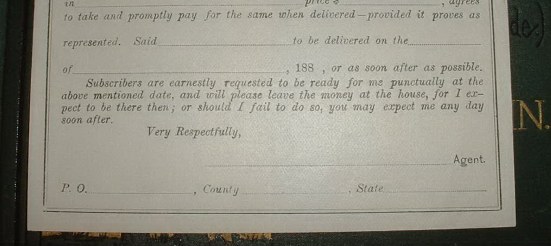 copyright notice 1885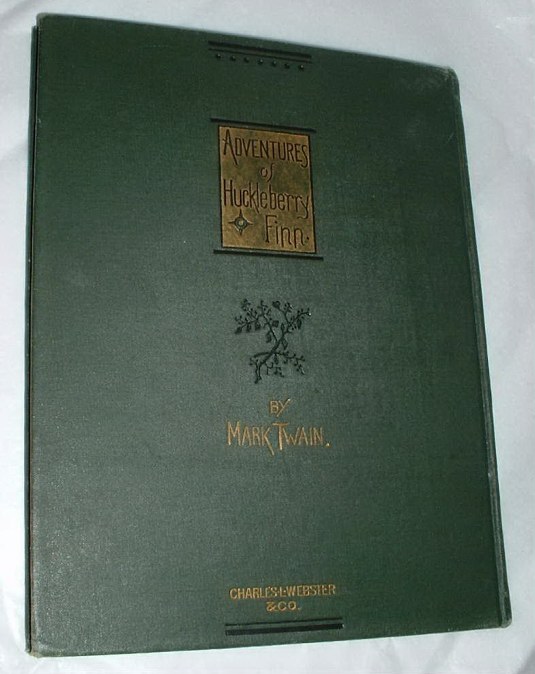 ABOVE: Rear cover with cloth sample stamped in gilt & black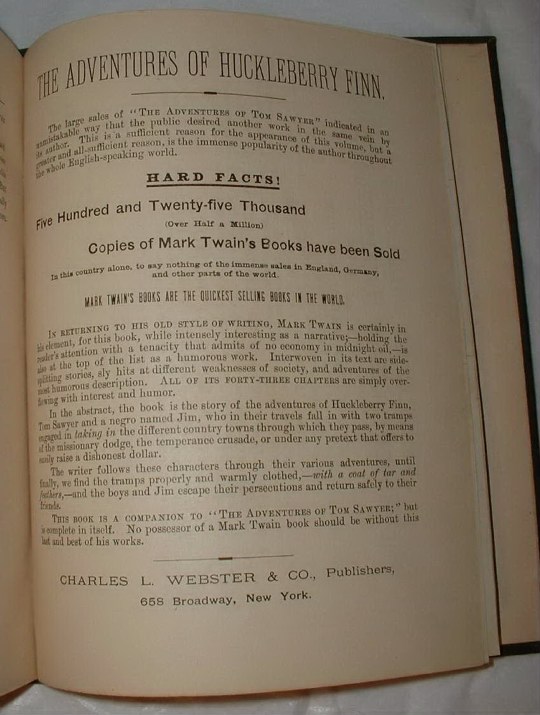 ABOVE: Sales pitch to Americans to buy Twain's latest book
BELOW:
Inner front cover with original spine samples in fine condition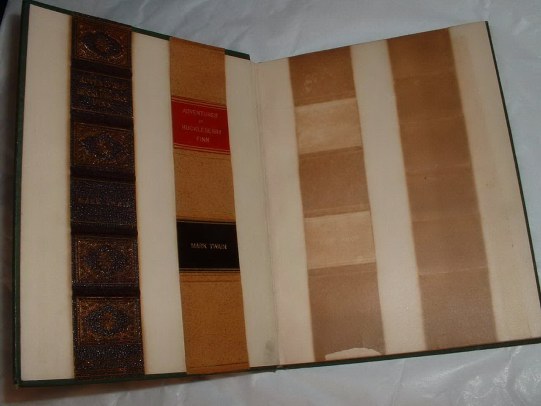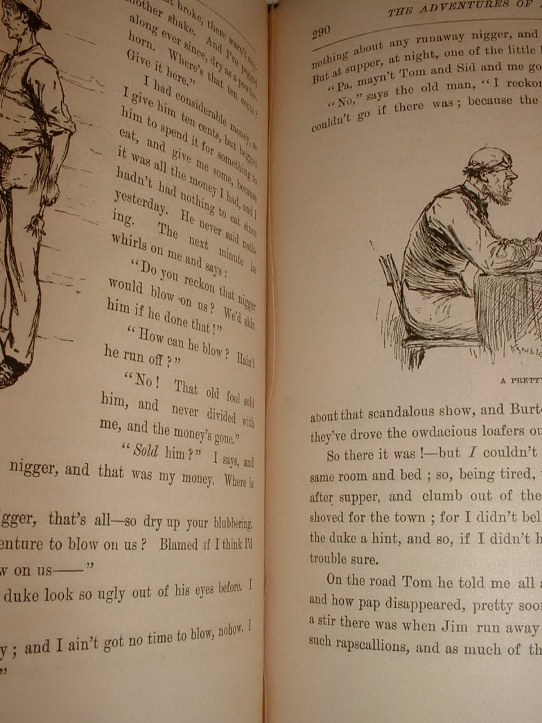 ABOVE: Page 283 torn out (per demand of the publisher)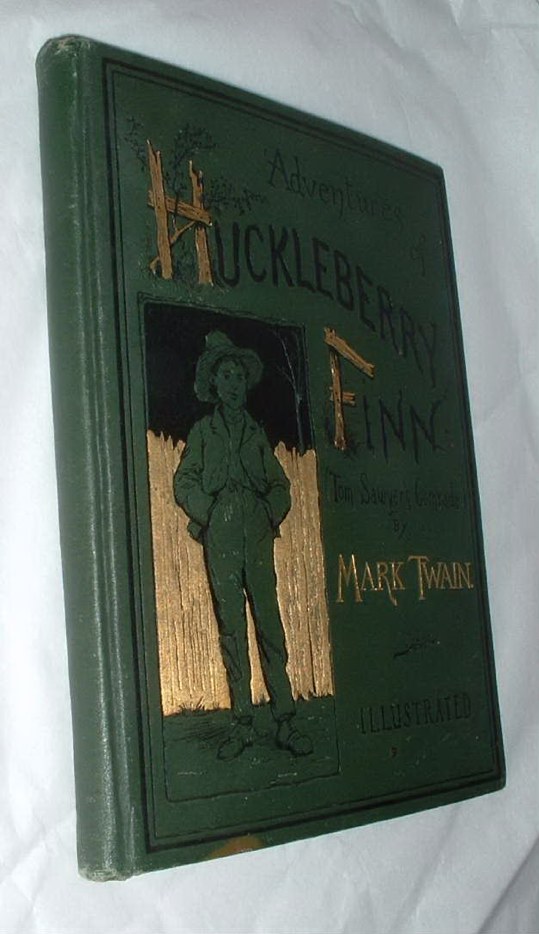 Front cover with only the slightest bit of wear (extremities have cloth there, the lighting in the photo adds illusion of wear not actually present; cloth isn't worn away)
Original salesmen's sample for
Adventures of Huckleberry Finn by Mark Twain.
New York: Charles L. Webster and Company, 1885 (actually 1884). 8 ¾ x 6 ¾".
Original green cloth, stamped in black and gilt, inside front cover with specimen spines of gilt titled morocco & sheepskin with black & red labels, sample pages of illustrations & text. Contains the earliest recorded state of the title page with the copyright date being 1885.
This is an unusually clean, fine and very bright copy, especially for a salesman's sample which are usually found quite worn & abused condition. Also carefully preserved inside is some original publisher's paperwork used by the book agent. A small spot of discoloration at very bottom left margin of front cover, offsetting to front endpaper from the leather spine samples with a few small tears, a few fingerprints to some beginning pages, but otherwise is very fresh & clean.
Special note: this copy has page 283 torn out, as agents were told to remove the page & send it to the publisher or their job would be terminated because of a naughty defacement to the illustration on that page. All other pages are present as issued in all original, unsophisticated, clean condition. The ruled paper provided at the back of the prospectus for the salesman to take orders contains 18 subscribers blanks filled in both pencil & pen. All subscribers were from Celina, Ohio where this book was recently discovered untouched in the house that protected it for over a century.
It was discovered in the estate of a lady who was born & died in the same house, at nearly hundred years of age. There is a very strong likelihood her father was the actual salesman. Laid in is the following original paperwork that is "dated 188_" (last digit to be filled in by the agent):
1. Original Certificate of Agreement , 5 ¼ x 4 ¼". A form the agent would
fill out & leave with the subscriber.
2. Original order form for Agents to buy books direct from the publisher.
3. Original Agent's Weekly Report to the publisher.
A choice group of original sales materials for Mark Twain's most
celebrated book in superb condition.
SOLD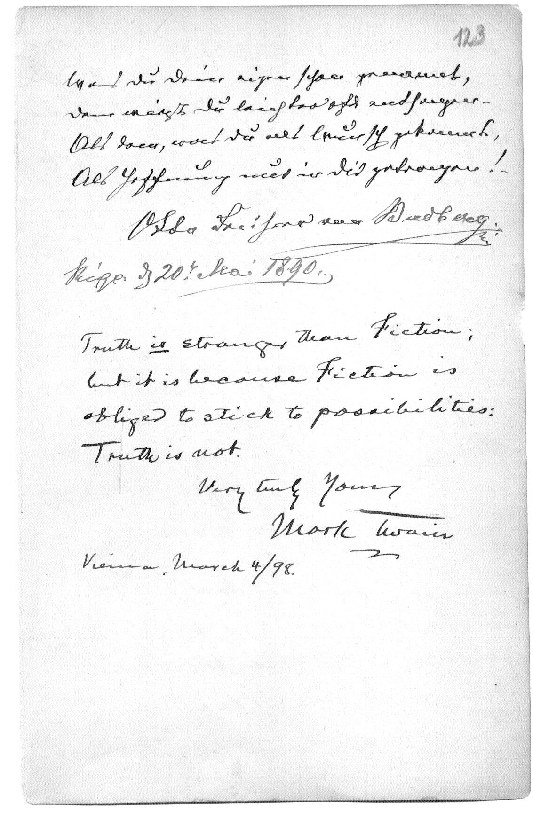 Truth is Stranger than Fiction quote. Twain's observation is as current as the 911 disaster, or as timeless as the very limit of fiction bounded by reality. Specifics upon request.
SOLD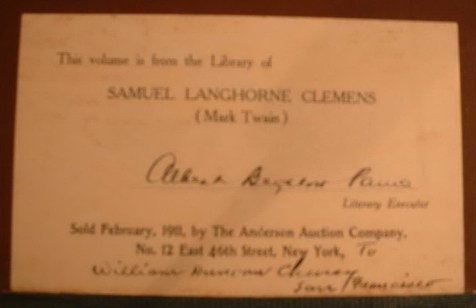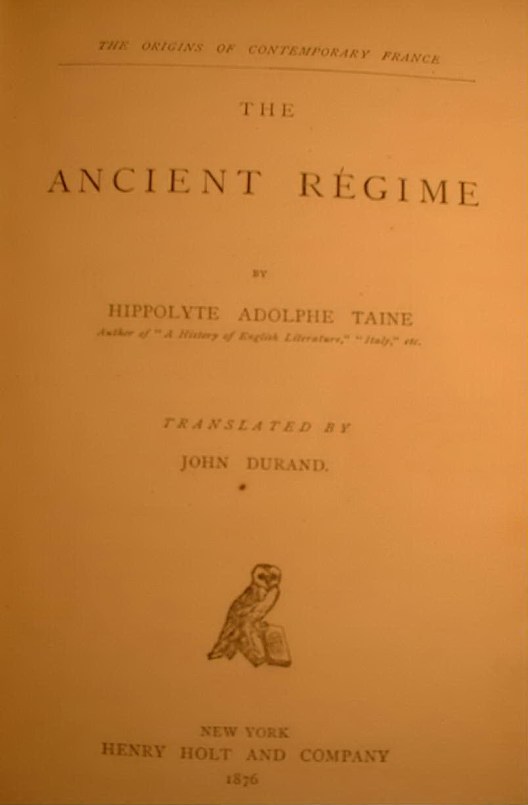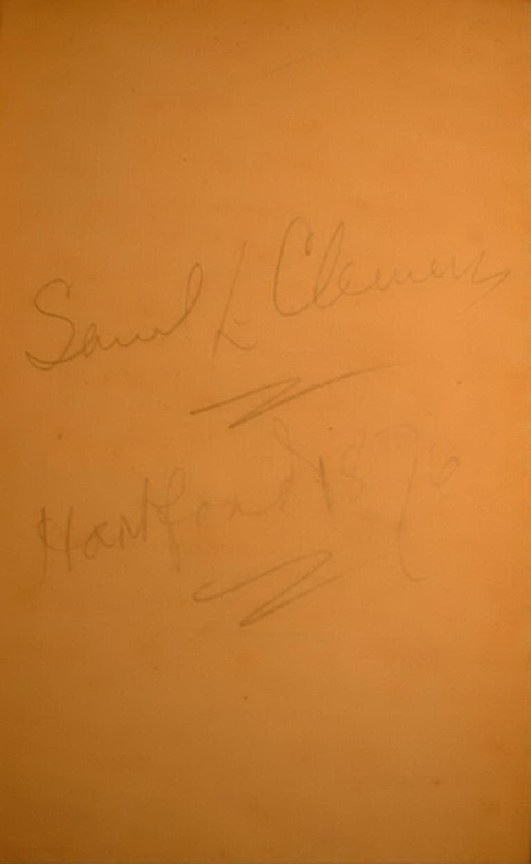 Mark Twain's ownership inscription on the front endpaper of The Ancient Regime by Hippolyte Taine, published in 1876. This is a very special & influential book from Mark Twain's personal library, read two times by him back to back late in 1876 & early in 1877. When he first bought & read this he was having The Adventures of Tom Sawyer published for the first time & was busily starting to write Adventures of Huckleberry Finn.