Welcome to the Admirable Books web site.
Please scroll down to the bottom for links to other pages
BREAKING NEWS -
------------------------------------
The long-lost sequel to Adventures
of Huckleberry Finn has been discovered. American
fiction's most famous boys set off on a wild adventure and
find themselves stranded in hostile Indian Territory.....
will they survive?
MARK TWAIN MEMORABILIA WANTED! - WE PAY GENEROUSLY FOR QUALITY!
- Collections sought!!
- Please let us know what you have!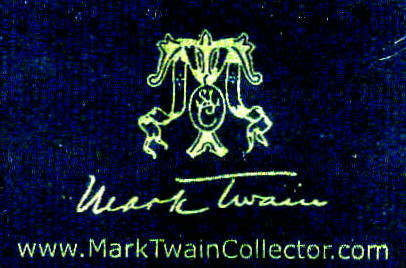 Mark Twain advised people to "Endeavor to so live that when your turn comes to die even the undertaker will be sorry." We have laid his admonition to heart, and this spirit pervades all areas of Admirable Books. Investment in American history is a fun hobby that has grown steadily over the years, and the trend is growing -- even as the stock market dances down and up every day. Maybe that's because you actually get something tangible for your money instead of taking a gamble with it.
Let's face it-- investing in a funny letter written by Mark Twain, or a piece of furniture he actually owned & used is far more gratifying than simply placing that same money into other types of investments such as stocks or bonds. We are experts at finding, authenticating, and evaluating original Mark Twain treasures and developing special collections. We are the only business in the world completely dedicated to this undertaking. Owning original Mark Twain items preserves one of America's great national treasures. Because Mark Twain often times makes us laugh, this investing could even be beneficial to your outlook on life & even your health!
This web site is divided into various sections, links to them are found along the bottom of this page, and along the sides of the other pages. The "Home" page takes you to this page. The "About Our Merchandise" page describes details regarding our expertise & our merchandise guarantee. The "Treasure Chest" is where to look for featured Mark Twain memorabilia available for acquisition. The "News" link provides articles about Mark Twain related events. The "Collecting Tips" section contains some important advice, and addresses commonly asked questions about Mark Twain memorabilia. The "Contact Us" link provides details on how to do just that. Finally, the "Did You Know" section contains interesting and little known facts about the man known as "the Lincoln of our literature."
Admirable Books exclusively specializes in Mark Twain memorabilia, and it has been this way since 1991. We have handled many museum quality "high end" pieces, including the original marriage certificate between Samuel Clemens and Olivia Langdon, Twain's own proof copy of the last article he wrote, personal effects including furniture and photographs, and numerous important Mark Twain relics including even the actual Death Certificate that accompanied him from Redding , CT to his final resting place in Elmira, NY.
Over the past decade we have had the honor of handling numerous important Mark Twain letters, manuscripts, and books concerning Adventures of Huckleberry Finn, archives of unpublished letters, many dozens of books from Mark Twain's library with his marginalia, Clemens family heirlooms, and much, much more.
Significant & incredible Mark Twain memorabilia will be added to this site as time affords, so please mark us in your "favorites." We can also e-mail you when updates to this web site are made. In order to guarantee this you need to contact us directly, an e-mail to bob@marktwaincollector.com should do the trick. A verification e-mail will be sent to confirm your request has been registered, and such confirmation is required to guarantee you will get notice of any updates.
Admirable Books strives to fully educate our clients because this leads to high satisfaction when a decision is reached. We publish very useful information on this web site, but a personal consultation will provide even better and more immediate benefits, and is free of charge.
All of our merchandise is fully guaranteed to be utterly genuine without any time limit, and its been this way for over a decade. All handwritten material is guaranteed for $1000 over the price paid, which is the best authenticity guarantee in the entire rare book/manuscript business. Thanks again for stopping by, and please have fun surfing this site by just clicking your mouse on the links below!
Twainiacally Yours,
Robert Slotta
Admirable Books
5425 Rivervail Court
Columbus, OH 43221
(614) 439-5913
All pages images and text of this site are copyright 2002, 2003, 2004, 2005, 2006, 2007, 2008, 2009, 2010, 2011, 2012, 2013, 2014, 2015, 2016. All rights reserved. By clicking anywhere on this site, viewer agrees to obtain permission in writing for use of information contained in this site, including but not limited to images. Use of this site acknowledges the terms & copyright of this site.